Pothier Dodge Dealership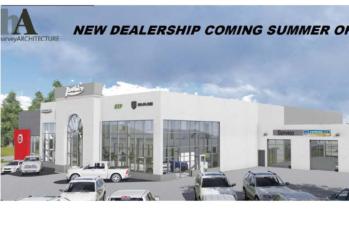 Project Description:
New Pothier Dodge dealership in Falmouth, NS.

Heating, Ventilation, Air conditioning, and Plumbing by DOC Engineering Inc.
Mechanical system consists of primary infloor radiant heat throughout the showroom, drive through service and maintenance garage using waste oil boilers. Back up heating and primary cooling is provided by two roof top air conditioning (DX) unit with back up propane fired heat in each roof top. Dedicated roof top Air conditioning unit supplies cooling and back up propane fired heating to the showroom. Energy recovery ventilators supply fresh air to the offices and maintenance garage. DDC control system. CO/NO systems within drive through service and maintenance garage to maintain acceptable vehicle exhaust concentrations.
Project Status:
Project Completed
Related Pictures:
Updated:18-Aug-2017
Website Designed and Created by NorthEastWebs.com